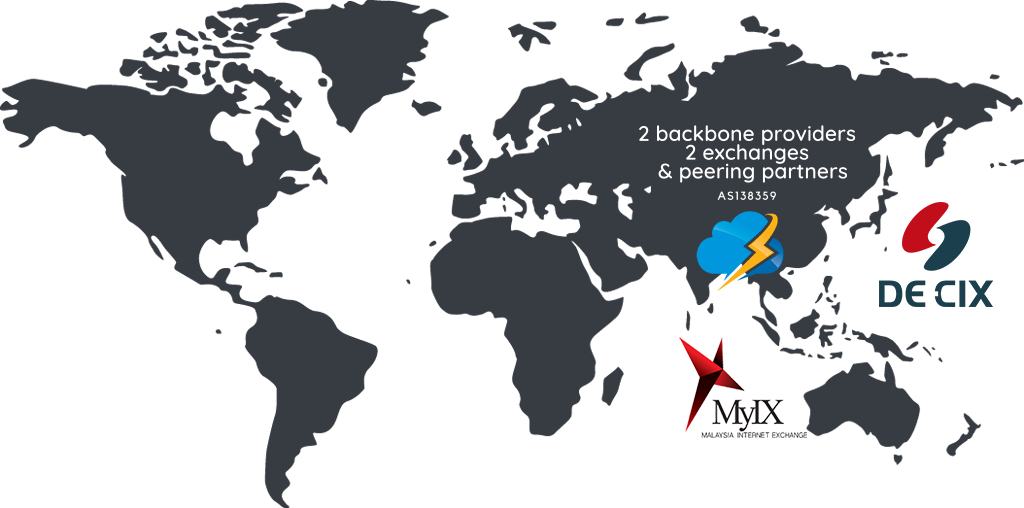 Network
To achieve redundancy, we manage and deploy Border Gateway Protocol (BGP) network - AS138359. Multi-homed network is crucial for web hosting providers. No business can afford prolonged outages, and the most effective way to maximize uptime is through a robust BGP implementation to multiple transit backbone providers
We route traffic to the fastest and closest backbone provider or peer in order to achieve the best speed with the lowest latency. Our mesh network include local and international networks. We participate in local Internet Exchange - IXs, mainly DECIX-ASIA and MyIX (Malaysia Internet Exchange) to connect and peer with other 150 participating networks.

Hurricane Electric AS6939 operates a global internet backbone, providing IP Transit (IPv6/IPv4 wholesale Internet bandwidth). The company operates the world's largest IPv4 and IPv6 global network, with direct connectivity to more than 7000 different networks, including more than 180 Internet peering points, and at 150+ POPs in 103 cities in North America (27 states & 7 provinces), Europe, Asia, South America, the Middle East, and Africa. HE.net also operates three carrier-neutral data centers for colocation of customer equipment, in Fremont and San Jose, California. Hurricane Electric was founded in 1994 and is headquartered in Fremont, California. [HE Network Map]

Extreme Broadband Sdn Bhd (EBB) AS38182 is an Internet Service Provider licensed by the Malaysian Communication and Multimedia Commission. EBB have been providing Data Centre Colocation, Inter-connection services and Dedicated Internet Access since 2005. Upstream tier 1 carries for EBB AS38182 are TATA, HGC, HE & Singtel.
Peering is a process by which two Internet networks connect and exchange traffic. It happens most at Exchanges - IXs. IXs keeps traffic local, providing faster connections between the two networks.



Other peering partners including -Time Dot Com, Netflix, Webe, BICS, Swisscom, Alibaba, Tencent and the number keep on growing when we initiate/accept peering request. To peer with us, please check out our peering policy link.
Cyberjaya CJ1
Cyberjaya, Malaysia.
Malaysia is strategically located in Southeast Asia with domestic and international connectivity, ease of access and relatively low cost of entry. Located at the heart of the Multimedia Super Corridor (also known as MSC Malaysia), Cyberjaya is equipped with modern infrastructure integrated with state-of-the-art commercial developments.
CJ1 Data Center provides a multi-telco ecosystem with several distribution network paths. This Tier III facility has connections to extensive telecom, Internet and fiber service providers, enabling it to serve as a connectivity hub for local enterprises and global hyperscale providers.
Details
Tier III certified, ISO/IEC 27001 & PCI DSS Certified
| | |
| --- | --- |
| Structure | Data Centre at 10 kN/m Facility area at 15 kN/m |
| Floor | Height 4.5m |
| Power | Dual incoming Power (Serdang & Kapar)& Multiple backup Generator |
| UPS | Dual (N+1) UPS |
| Cooling | N+1 CRAC cooling |
| Fire | Pre-action water mist (Optional) Gas suppression system |
| Network | Carrier neutral with Dual incoming |